According to UN economists, the e-commerce sector, or more precisely parts of the online economy have boomed since 2020, the year when the covid-19 extravaganza was laid upon us by our betters.
Some of the pre-pandemic corporations/billionaires have seen a reversal of their fortunes since the lockdowns began, while e-commerce linked companies/billionaires amassed more than 4 trillion dollars since 2020.
According to development experts UNCTAD and UN trade, 3 sectors benefited greatly in terms of rising their share of all retail sales. The most dramatic impact of covid-related e-commerce growth was seen in South Korea, where internet sales increased from around 1 in 5 transactions in 2019, to more than one in four in 2020.
Here's Shamika Sirimanne, UNCTAD's director of technology and logistics:
These statistics show the growing importance of online activities.They also point to the need for countries, especially developing ones, to have such information as they rebuild their economies in the wake of the COVID-19 pandemic."
The UK also registered an e-commerce boom in 2020, with online transactions growing from 15.8 to 23.3 per cent (2019 vs 2020 figures). China was also blessed with a spike in online transactions, from 20.7 to 24.9 per cent, as well as the United States (11 to 14 per cent), Australia (6.3 to 9.4 per cent), Singapore (5.9 to 11.7 per cent) and Canada (3.6 to 6.2 per cent).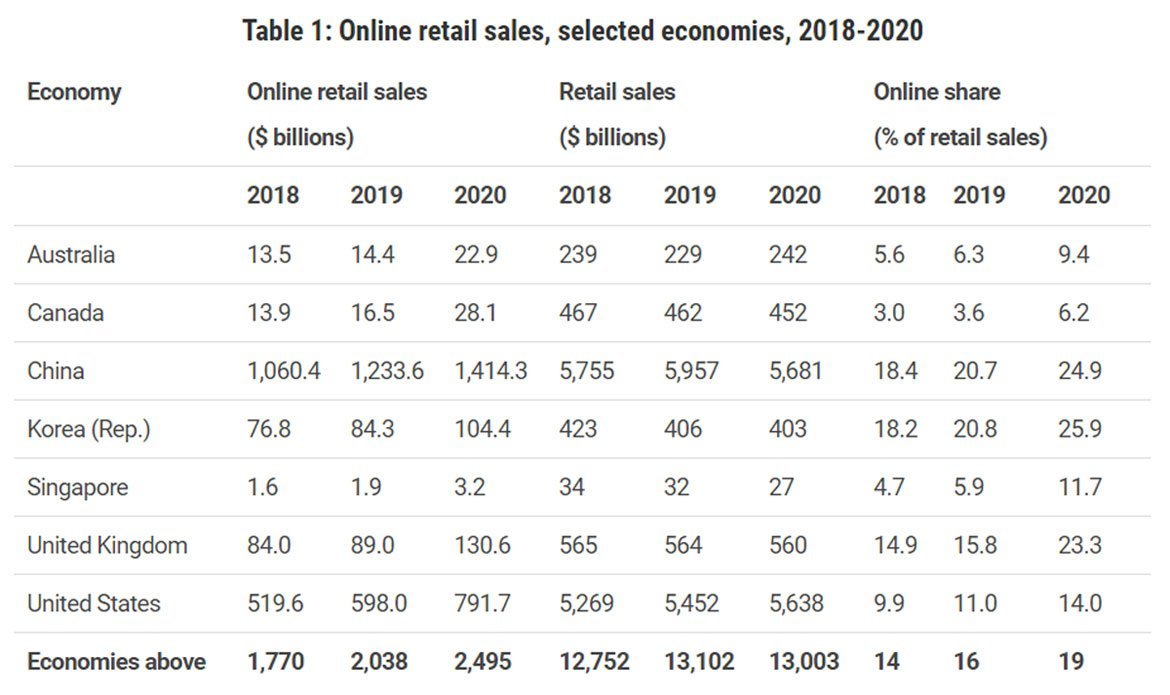 The flipside to that coin is that companies offering ride-hailing and travel services have suffered greatly, as well as small businesses in the US. Or, to put it bluntly, main street was swallowed by Wall Street.
Overall, global e-commerce sales jumped to $26.7 trillion in 2019, up four per cent from a year earlier, the UN number-crunchers noted, citing the latest available estimates.